September 2011
Things to Consider When Deploying RFID
Rolling out RFID software across a jewelry store requires the involvementof every functional area, but it doesn't have to be overwhelming. When phased-in correctly, RFID can be slowly absorbed into your every day operation leaving a positive impact on productivity and performance. Here are three things you can do to make RFID tracking software work for you:
Define why you need RFID. RFID software is used to track inventory accurately and fast, it is not an inventory management system. When you adopt RFID, realize it's not your Point-of-Sale system, it's an add-on technology that leverages your inventory control and sales efforts.
Tag a small portion first. Many jewelers are tempted to apply tags to their entire inventory. Tag a single brand or a couple of hundred fast moving items for couple of weeks first to see how the technology works for you. Making any changes on part of the inventory is a lot easier than modifying the entire location.
Involve everyone. RFID is bound to be used by most of your staff in one way or another. Keeping everyone involved gives you the opportunity to gather feedback early on in the process. This will allow you to modify any areas that you feel disruptive to your operation while making sure that your staff adapts to the new technology.
RFID Enables Jewelry Wholesaler to Reconcile Daily
"I always assumed RFID was not ready for jewelry environments until I saw it live at a tradeshow. I was still a little skeptical but with a two week trial of TJS ZeroShrink and great customer service I immediately felt comfortable with the application. ZeroShrink is now helping us do our inventory at least five times faster."
-Wei Ming Chen, R.S. Nazarian
Challenge. At the office, full inventory counts were done sporadically and took over 32 man hours to finish. Because it took so long, counts were done so infrequently, everything was disorganized, and pieces went missing. Also, consequently there were constant billing delays.
The company also has two sales reps that are constantly on the road. They had to manually count their lines of about 500 pieces and update their excel sheets before and after each delivery. This took them almost two hours each; time they could spend on selling.
Solution: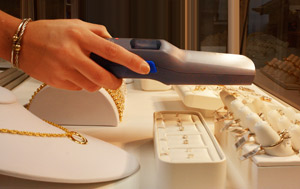 TJS ZeroShrink Standard Edition was deployed in the main office. The software came pre-populated with their inventory data, eliminating the initial time required for data entry. Jewelry items are associated with a unique RFID tag number. During scans, the system verifies each item and immediately produces an Unverified Items report which outlines any potential missing items. The time for full inventory counts decreased from 32 man hours to 1 man-hour.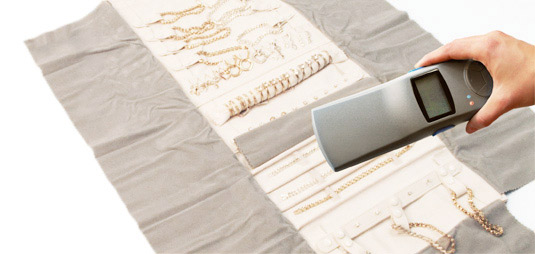 The two sales reps are now using ZeroShrink Express Kit, the mobile kit which allows for quick jewelry scans on the road. The sales reps now take only ten minutes to count their lines, generate reports of the count, and quickly email the reports to the Inventory Manager.
Benefits
All inventory is now tracked and organized
Billing is no longer delayed
Everything is reconciled daily
Dramatic decrease in shrinkage
Inventory count done five times faster
Time saver and convenience to the sales representatives